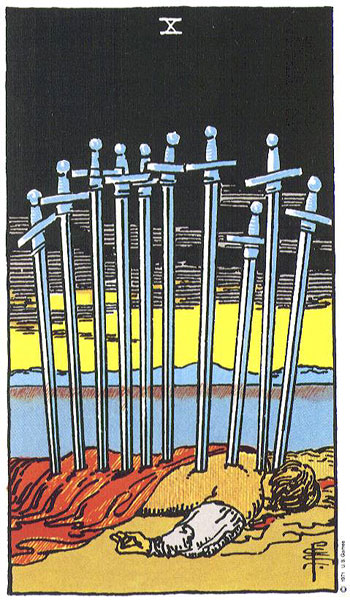 The 10 of swords is a card that can strikes terror in the heart of one who receives it. (That is if you actually believe in Tarot) Even if you don't believe in Tarot it could be startling to receive this gruesome card, especially if it was an accurate reflection of what is occurring in your life.
So, of course you probably know what I am leading up to. I got this card the other night....5 TIMES!! Yikes! It almost made me want to throw my Tarot deck away from me and run screaming out of the room. It almost made me want to perform an exorcism.:)
This card, you will not be surprised to know, is sometimes called defeat, and defeat is something that nobody welcomes. But defeat can also open new doors. For once someone has done everything that they can possibly do, there is no choice but to move on and start considering different options And once the initial shock of the defeat is over, leaving the path that you have been trudging down so wearily and starting on a new untried path can be a heady and liberating experience! Defeat is not something that anyone looks forward to but after years of being terrified by horrifying cards like this, we Tarot readers tend to come up with alternate meanings for them that are a little less discomfiting, which is one of the really cool things about the Tarot.
There is an another amusing interpretation of this card in Rachel Pollack's book, 78 degrees of wisdom, (which I would highly recommend even if you are not into Tarot, it is full of unintentional poetry and life lessons) in which she points out that the figure in the picture appears melodramatic or 'hysterical' as she puts it. And many people do interpret this card as representing someone who is playing the victim. They say it can stand for someone who wallows in their pain and doesn't want to move on or as I prefer to think of it, someone who is not in touch with their personal power and believes that they have no choice but to remain in the situation that they are in, which I think is a much kinder way of putting it.
In this situation, ones task would be to examine ones attitude and try to come up with positive, creative, proactive solutions to their problems. This interpretation is basically and sub-level of the defeat card, or perhaps sub-category would be a better way of putting it.
Along the same lines, another key phrase for this card is 'stabbed in the back'. And again this card would prompt one to examine situations that make them feel like they are being stabbed in the back. It may also prompt them to look at the part their attitude or behavior may be playing in the situation.
I wonder if you have noticed that contrary to being fatalistic, the cards are very pro-active in nature. Never do they suggest the situation is set in stone, they always suggest a way in which the situation can be improved or thought of differently. They are sort of like having a 'magical' counselor that you never have to pay.
I have had many people want me to tell their fortunes. To tell them what the future holds for them and I won't do this anymore. It makes me very uncomfortable and it also feels silly to me. I have however had some very strange things happen to me while I have read, so I do not entirely discount the idea that the cards do sometimes take on a life of ones own. I don't even try to understand that anymore. But I do not do fortune telling.
Tarot readers are often disrespected because we are looked upon as....well....fruitcakes! And there are many people who do fortune telling with them. And because of this, many people don't realize that the true purpose of the Tarot cards, at least to me and many others, is that they are a tool for spiritual growth. They use pictorial symbols to represent archetypal human experiences and allows one to think about things using their right brain.
I prefer to look at the Tarot as a tool for self-examination and if reading for others, I am the 'keymaster', I know the meanings of the cards. I am the guide..that's all. Tarot has many lessons, one of them I have just related to you. That ultimately, the answers are inside of us and we can find them if we search and that the Tarot can be a tool.
I'm still having a hard time concentrating and I realize that this post is a little disjointed and has some typos, grammatical errors etc...but it's the best I can do right now, especially since my kids are running around the house screaming like monkeys. I will come back and fluff it up a little more later, but in the meantime, I wanted to post it, warts and all!